We're a new charity made up of three volunteer Trustees.
This is us…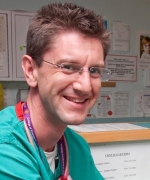 Professor Andrew Rowland
BMedSci (Hons) BMBS (Hons) MFMLM MAcadMEd FRCEM FRCPCH FRSA

Professor Andrew Rowland, our Founder, graduated from The University of Nottingham Medical School, UK with a First Class Honours Bachelor of Medical Sciences (BMedSci) and Bachelor of Medicine and Bachelor of Surgery (BMBS) with Honours and Distinction in Paediatrics and Child Health. He is currently Consultant in Paediatric Emergency Medicine at a Trust in the North West of England and was made Honorary Professor at the University of Salford, UK in 2014.
Andrew is certified as a subspecialist in Paediatric Emergency Medicine with the UK General Medical Council and is registered with the Cambodian Medical Council.
His professional achievements include:
Fellowship of the Royal College of Paediatrics and Child Health (FRCPCH)
Fellowship of the Royal College of Emergency Medicine (FRCEM)
Member of the Association of Paediatric Emergency Medicine (APEM) – awarded their 2013 Liz Molyneux Prize and 2014 travel bursary
Advanced Paediatric Life Support (APLS) Course Director
Membership of the Academy of Medical Educators (MAcadMEd)
Membership of the Faculty of Medical Leadership and Management (MFMLM)
2013 Division of Medicine and Community Health Services Doctor of the Year Award
Examiner for the University of Manchester Medical School
Head of the UK delegation to the Union Européenne des Médecins Spécialistes (UEMS)
Fellow of the Royal Society for the encouragement of Arts, Manufactures and Commerce (FRSA)
Life Fellow of the Winston Churchill Memorial Trust (WCMT)
Andrew is currently the only Consultant in Paediatric Emergency Medicine employed by his hospital working in a unit seeing around 30,000 children per year in the emergency department, within an organisation in the North West of England seeing in excess of 80,000 children per year in the emergency departments and urgent care centre – making the organisation one of the largest providers of paediatric emergency medicine care in the UK.
Andrew is a member of his hospital's Safeguarding Children Group and has lectured internationally (USA, Singapore, Malaysia, Cambodia and Hong Kong) on issues relating to protecting children from harm as well as recognising and responding to possible child abuse and developing processes and organisational systems to protect children at risk of significant harm.
His research interests include development of a bespoke Emergency Department (ED) specific early warning track-and-trigger score to predict admission or discharge potential in children attending the ED as well as investigating professionals' views on issues including mandatory legal reporting of child abuse and the development of child protection networks.
At the Royal College of Paediatrics and Child Health, Andrew helped to re-write the next edition of Physical Signs of Child Sexual Abuse: an evidence based review and guideline for best practice which was published in May 2015.
Andrew is a member of the Board of Directors of M'Lop Tapang, a social development organisation working to promote the health, education and social care of vulnerable children and young people in Southern Cambodia.
In 2015 Andrew was invited to attend a Reception at Buckingham Palace to mark the 50th Anniversary of the creation of the Winston Churchill Memorial Trust. There he met Her Majesty the Queen, His Royal Highness the Duke of Edinburgh, Prince Michael of Kent and Churchill Fellows from each decade since the Trust's creation, to discuss his report 'Living On A Railway Line'.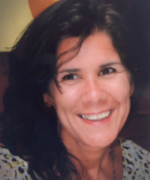 Dianne Cook
e
Dianne is the lead advanced paediatric nurse practitioner (APNP) within an emergency department in the northwest UK. She has been nursing children and young people since qualifying from the West Pennine College of Health Studies in 1994, registering shortly afterwards as a sick children's nurse and receiving a diploma in professional studies in nursing from Salford University. Dianne has furthered her career by receiving a BSc (Hons) community specialist practitioner in children's nursing degree and in 2008 qualified from Bolton University with an MSc degree in advanced practice in health and social care.
Having nursed children and young people (CYP) in Manchester, both in the community and acute services, Dianne has been passionate about promoting the fact that age should not be a barrier to understanding people's experience of health care particularly ensuring that the views and voices of the young people who use services are recognised and heard. She has developed close links with the CYP in the local community, seeking, listening and thus promoting the recognition of their distinct needs across all health and social care settings.
Dianne has been a member of the Royal College of Nursing CYP Community Steering Group and chaired the Northwest Children's Community Nursing committee forum, campaigning for accessibility and equality of health care provision for all CYP thus encouraging the sharing and implementation of local and national standards to meet the children and young person's specific needs.
Dianne was a member of the National Institute for Health and Care Excellence (NICE) Children's Guideline Development Group and is currently the chair of the acute / children's community nurse team leader's forum. She has recently become a site representative on the Paediatric Emergency Research in the UK and Ireland (PERUKI) steering committee.
When not helping out on her days off in the bed and breakfast that she and her partner own in Scotland, Dianne can often be found commuting on the M6 with her present loves of Diet Coke and Tunnock Tea Cakes!
Dianne is delighted and proud to have been appointed as SicKids' Director of Nursing.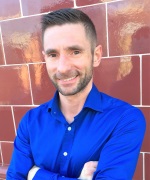 Den Carter
FRSA
Den is a communications professional with several years' corporate experience working with large brands across Europe and Canada.
He specialises in event management and digital communications, including social networks and film production, as well as in managing big-budget projects.
His strength is in developing messages that are clear, simple, relevant and valued, and landing with the right audience, in the right format and using the right media for the best possible impact and engagement.
In his professional capacity Den regularly lectures and gives keynote addresses at communications conferences.
For three years, Den managed a corporate partnership between a major brand name and one of the world's most recognised children's charities. Through public fundraising this project raised over £5 million, which was invested in the procurement of polio vaccinations for children in some of the world's most hard to reach places, primarily in African nations including the Central African Republic, Cameroon and Mauritania. In this role, Den spent time in the field, delivering vaccines, and gaining a true understanding of the need for funds and expertise to protect children.
When not working in his current role at a major UK travel brand or in his capacity as SicKid's Head of Communications, Den is a wine enthusiast, keen traveler and dedicated yoga practitioner.