We're currently focusing on two key projects:
>> Sensory Spaces (fixed and portable sensory equipment)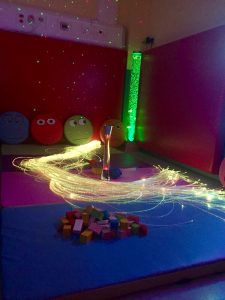 Sensory equipment is designed specifically to support the development of the senses - like touch, hearing and sight - through cool things like special lighting, music, and tactile objects.

While all children in a clinic or hospital might benefit from additional sensory support, for those with developmental delay, mobility issues, or visual/hearing impairment this might make their visit so much more pleasant. Very few children in Cambodia, if any, have access to these sorts of facilities. For some children with developmental delay a sensory room could mean the difference between long term disabilities and mobility issues, and good health and happiness. SicKids is fund raising to build a series of facilities - called a SicKids Sensory Space - in both the North West of England and Cambodia.
---
Funds Required: Approx £5,000 per Sensory Space
Objectives: Developing child health in UK and Cambodia
Projects completed to date: As of December 2022 we've opened 11 SicKids Sensory Spaces (six in Cambodia and five in the UK), and donated portable equipment to two communities (one UK, one Cambodia)
>> Medical outreach clinics, developing talent and sharing skills
This project aims to award grants to medical professionals working with children and young people in the North West of England and Cambodia, to travel and spend time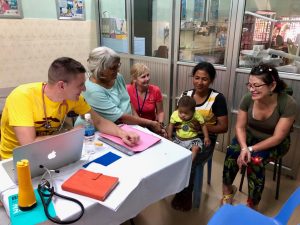 learning from the health and social care teams in the reciprocal country.

The outcomes of this project include improved medical knowledge for all concerned, and enhanced medical care offered to children and young people.

As of September 2017, SicKids has awarded four grants, and has already seen a significant positive impact on children and young people in Cambodia, including better asthma control, improved development, and the launch of new guidelines for managing paediatric conditions.

SicKids' grant recipients have also provided First Aid training to over 60 Cambodian community workers, opened a health education and resource centre, and delivered the first known workshop on baby massage in Cambodia.

In 2015, the University of Salford, The Pennine Acute Hospitals NHS Trust and M'Lop Tapang launched a partnership to improve the health and social care of Cambodian children and young people. This includes twice-yearly visits by our Founder, Andrew, who undertakes medical clinics in the health centre in Sihanoukville, as well as field work in the surrounding jungles and villages.

We'd like to further enhance the health and social care support provided to the local Cambodian health, education & social care team by funding a team of three or four health and/or social care professionals running outreach clinics in Cambodia twice a year for at least the next three years, to support the relief of he prevalent health issues facing children and young people in Cambodia, such as:
Malnutrition
Respiratory infections
Dengue fever
Gastrointestinal infections
Parental alcohol or drug use
Childhood drug dependency
Skin diseases
Developmental delay
Health consequences of child abuse
In addition to advancing health care to children and young people in Cambodia, we have a great opportunity for our UK health and/or social care professionals to gain valuable experience, professional development and enhanced clinical, organisational and managerial skills which are of great benefit to their patients back in the UK.
---
Funds Required: Approx £8,070 per year
Objectives: Improving health and wellbeing of children & young people in South West Cambodia, and developing skills of UK professionals
Projects completed to date: TBC
Status: While Skype clinics and skillsharing has been ongoing, from 2020 to 2022 many aspects of this project have been on hold due to Covid-related travel restrictions, although we hope to resume 'normal' operations in the near future
If you'd like to support our aims to provide sensory facilities for children in the North West of England and Cambodia, or to help us continue to provide medical outreach and development opportunities for medical professionals, please click here.