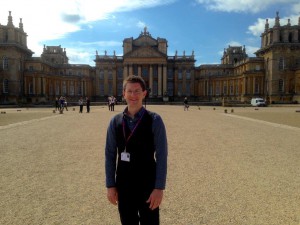 Today our Founder, Professor Andrew Rowland, gave a lecture at a special event at Sir Winston Churchill's birthplace of Blenheim Palace, hosted by the Duke of Marlborough's sister (Lady Henrietta Spencer-Churchill), to mark the 50th anniversary of his living legacy – The Winston Churchill Memorial Trust (WCMT) – and 50 years since his death.
Other members of the Churchill family, including Sir Winston's grandson Jeremy Soames, and his great-grandson, Randolph, were also present; as well as many of the Trustees and Advisory Council from the WCMT.
During his lecture Andrew described the findings of his report, 'Living On A Railway Line', which you can read on the WCMT website here. The report includes ten key recommendations for the UK designed to build strong and healthy communities with children at their hearts. Themes covered include better training to recognise and respond to cases of potential child sexual exploitation, the need to prohibit physical punishment of children, advocating on behalf of children and young people and mandatory reporting of child abuse.
Andrew also introduced his idea for the formation SicKids.
The special day was rounded off with a spectacular Spitfire Display, followed by Lady Henrietta Spencer-Churchill and Randolph Churchill taking the salute at a Beating Retreat given by a marching band.