As part of our medical outreach project, today we've been delivering essential Children's First Aid skills to members of the local community in North Manchester.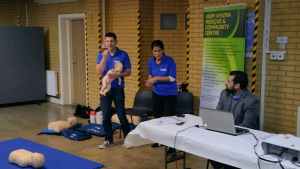 We believe it's important that members of local communities have these skills, yet such training workshops often carry a hefty price tag. Working with our friends at UKIM Khizra Mosque, SicKids Trustees Dianne Cook and Andrew Rowland delivered the training voluntarily, and at no cost to our supporters. Sixty parents and young people took part, gaining knowledge and practicing skills to preserve life in emergency situations involving infants and children.
Dianne says:
"It's brilliant to see members of the local community coming together to gain knowledge that may help them save a life. We believe every parent, brother, sister and people who work with children and young people should understand a few basic skills. Having some basic life support skills gives people confidence to help preserve life in an emergency, until professional help arrives. Thank you to Khizra Mosque for hosting us, and to everyone who came along today."
We're delighted to work closely with the local community in the North West of England. While this particular event didn't cost anything, we're continuing to work on outreach projects to enhance the wellbeing, health and happiness of children. Please consider making a donation. Every penny will help us make a difference.