Over the last couple of days our founder Andrew and grant recipient Joan have co-delivered first aid training to over 50 social workers, teachers and other non-clinical team members at M'Lop Tapang. This follows the great work started by Andrew and our first grant recipient, Sue Higgins, a year ago.
This training has been part-supported by the British Medical Association via their humanitarian fund.
Crucially, this time the focus was on teaching new life-saving skills to people who live and work in and around M'Lop Tapang's communities who aren't members of the medical or nursing team but work closely with children and young people every day.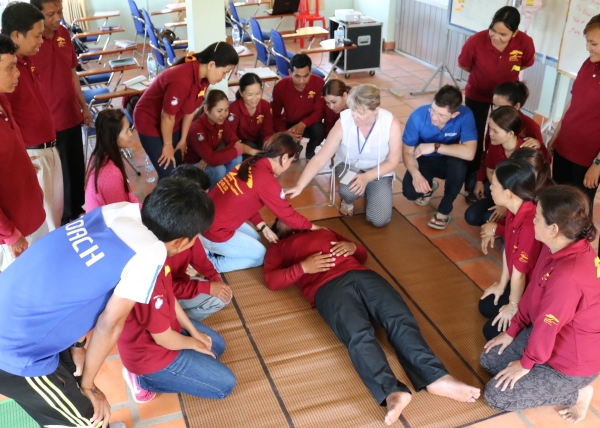 Joan has also been busy reviewing the first aid training material at M'Lop Tapang, making recommendations about delivery and evaluation for the team, led by Medical Program Manager Ngov Chanravy (Ravy).
Ravy says:
"The first aid training was really enjoyable and it was very well received. Thanks to Joan, Andrew, the SicKids team and the BMA for their support helping people who work every day with children and young people in the community here in Sihanoukville."
Learn more about our work supporting the health and wellbeing of children and young people on the UK and Cambodia, and how to support us on Youtube.