We're thrilled to have been awarded a grant from the Burdett Trust for Nursing to fund a professional visit for M'Lop Tapang's Medical Team Leader Ngov Chanravy (Ravy) this September.
The equivalent to an Advanced Paediatric Nurse Practitioner / Nurse Consultant in the UK, Ravy has been running one of the most advanced medical programmes for children and young people in South West Cambodia for over a decade.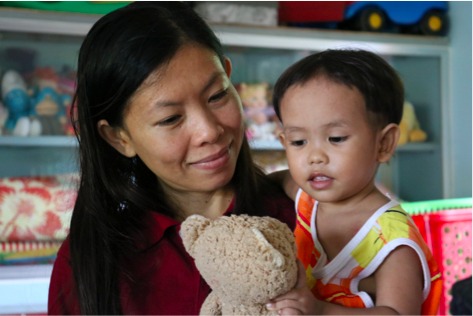 While in the UK Ravy will be welcomed by our Trustees, and spend a week working alongside medical professionals from various facilities of the Pennine Acute Hospitals NHS Trust, as well as working in the community in Manchester. She'll also spend time working with Nurse Sue Higgins, who was the first recipient of a SicKids outreach grant, and Joan Livesey, our second grant recipient. Both Sue and Joan have spent time in Cambodia working in Ravy's clinic thanks to their SicKids grants.
During Ravy's visit we'll also open our sensory facility at North Manchester General Hospital, where she'll spend time getting to grips with life-changing equipment similar to the kit she'll be welcoming at M'Lop Tapang when we open Cambodia's first sensory room in November this year.
Ravy said:
"I'm very excited to have the opportunity to visit the UK, and continue working closely with the team from SicKids. We already have a great working relationship, having been holding Skype clinics since January 2015, and it's been a pleasure to welcome both Trustees and grant recipients to M'Lop Tapang. This visit is an excellent opportunity for me to gain new skills and knowledge, and learn about the sensory equipment which SicKids is kindly donating to us. Many thanks to the Burdett Trust for Nursing as well as SicKids. I can't wait for my trip in September."
We continue to raise funds to support our medical outreach work. Learn more about it in our video below, and please click here to support us.