Having already awarded three medical outreach grants, two to UK professionals visiting Cambodia, and one to a Cambodian professional to visit the UK, we're delighted to have awarded another SicKids grant. The recipient is Dr Bratati Bose-Haider, consultant paediatrician at Fairfield General Hospital, Bury, and the first medical doctor to benefit from our grant programme.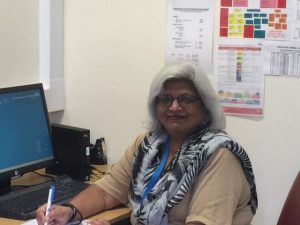 Bratati will be joining our Trustees, Professor Andrew Rowland and Den Carter, on a week-long visit to M'Lop Tapang, one of Cambodia's best medical centres for children and young people, this November. She'll provide expert advice on the management of children and young people with developmental delay – including all forms of disabilities. Her work will coincide with us building and launching our life-changing sensory room, funded by generous donations from our supporters.
A children's doctor with over 35 years' experience, Bratati set up the specialist child development centre in Bury. Her advice on how we can better support the children and young people with developmental delay already seen by our Chairperson Andrew, and previous grant recipients, will be invaluable.
Bratati says:
"I'm over the moon to have the opportunity to spend time with the excellent medical team at M'Lop Tapang. Having recently joined the SicKids Trustees on one of their regular Skype clinics with the team in Cambodia, I now can't wait to get out there and learn about their brilliant work with children and young people."
We're still fund raising to make our sensory rooms in the UK and Cambodia as amazing as possible.
| Donation method | Best for... | Where your money goes... |
| --- | --- | --- |
| Donate with a credit/debit card or Paypal via VIRGIN MONEY GIVING | Quick and easy donations with a credit or debit card - especially for UK taxpayers wishing to add GiftAid | Everything we get via Virgin Money Giving goes straight to the SicKids project that needs it most. Virgin Money Giving's commission is 3.45-3.6%. As SicKids has no overheads every other penny goes straight to the cause. |
| By BANK TRANSFER or CHEQUE. (More info here) | If you prefer not to donate online or wish to bypass Virgin Money Giving's 3.45-3.6% commission fee when you donate | Every single penny goes straight to the SicKids project that needs it most. (Note: we can still claim GiftAid but we'll need you to completely a little paperwork...) |
| Earn free donations when you SHOP ONLINE via EASYFUNDRAISING | Raising a little FREE cash for us every time you buy something online from retailers like AMAZON, EBAY and hundreds more - it costs you nothing but means the world to us! | Retailers pay easyfundraising commission when you shop with them via our special link, and easyfundraising pass this on to us as a donation towards the project that needs it most. |
| Send a quick text! Text SKSK01 £X to 70700 (Replace the 'X' with the number of £ you wish to donate) | A quick and easy donation via your mobile phone bill | JustTextGiving by Vodafone is commission-free so every single penny goes straight to the SicKids project that needs it most. |
Watch these two films to see how we're investing your donations to improve the health and wellbeing of children and young people: